Model May Banham has always lived a life of glamour and excitement, and that hasn't changed at Agincare's Blenheim Care Home in Bournemouth as she rolled back the years with a special photoshoot and celebrations to mark her 102nd birthday.
May hails from London, where she began her career as a model in the 1930s.
Her success took her globetrotting, all around the world walking runway shows (including the first one ever televised before the war), working as a house model with Lutyens and Raymond Piguet, and eventually to establish her own dressing agency for catwalk shows.
May also graced the pages of the single most hallowed fashion publication in history – Vogue!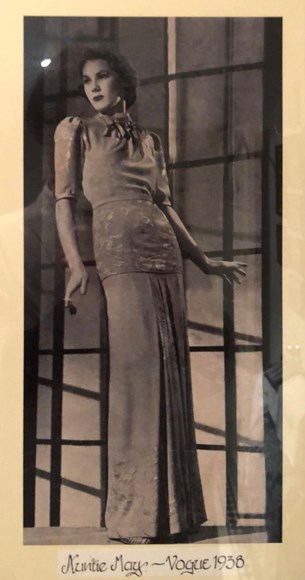 It was only when war struck the world that May changed jobs and began working for the government in the Ministry of Supply, making her not only fundamental to the fabric of fashion, but one of the countless heroes that together had a hand in shaping history.
May lives with dementia, and when someone asks her about modelling, her eyes light up. To this day, she knows how to make it in fashion – when asked by the team at Blenheim, she's even been willing to let them in on some insider-exclusive secrets of style, comportment, and grace.
"It was a marvelous time, and one I won't forget," says May about her years as a model.
Because of this, Blenheim's own Activities Coordinator, Niamh Coffey, decided that something special needed to happen for May's 102nd birthday.
With a little organisation from the Blenheim care team, and a lot of natural flair from May, yesterday May modelled once more!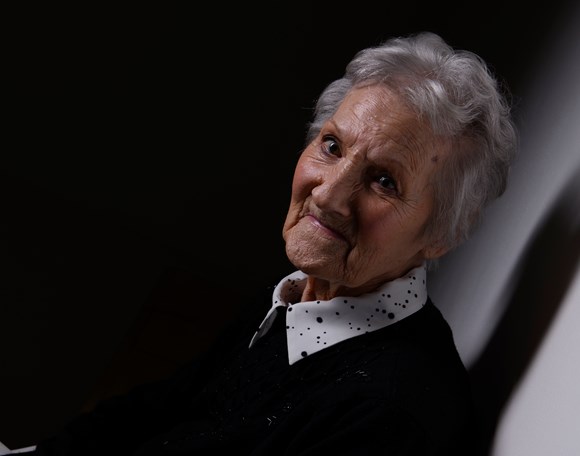 When Niamh told Bournemouth-based David from DK Capture Photography, and professional Makeup Artist Natasha Parker about the significance of this auspicious birthday, both creatives kindly volunteered their services to make May's day as perfect as possible, even rescheduling their bookings to make it work.
As a result, Blenheim's resident icon returned to set for a very exciting photoshoot, and the pictures speak for themselves.
"She loved it… it was like a light switch. Like she just went up to bat as a model; she became the model she's always been," said Niamh, who attended behind-the-scenes, "She needed no prompt, they didn't need to tell her anything. She naturally remembered exactly how to pose and didn't need guidance. The photographer [David] said he'd never seen anything like it."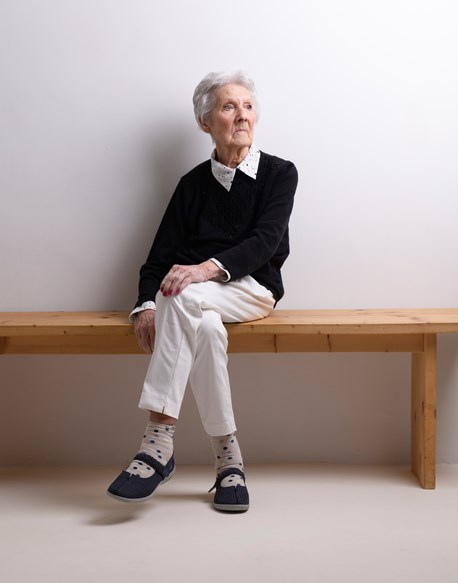 Everyone has been thrilled to see May truly in her element; whether she's sitting backstage for hair and makeup, or finding the light, we feel privileged to see her at work.
Bringing the celebration home at the end of the day, Blenheim's manager Tracy Jennings had the idea to throw a party upon May's return.
Large pink balloons spelling out 102, and one-hundred-and-two individual pink balloons to fill the home.
Finally, and perhaps most importantly, a pink home-made cake to delight all.
Blenheim Care Home is run by leading independent and family-run care provider Agincare.
Agincare takes huge pride in Niamh, Tracy and the entire team at Blenheim Care Home, demonstrating exactly why it takes a person-first approach to care.
As well as providing the medical and personal care that keeps residents safe and supported, people like Niamh go the extra mile to learn what makes each of our residents unique, and sincerely understand their individual stories. Because of this, May can celebrate what's important to her on her special day.
Follow us on Instagram Facebook and Twitter